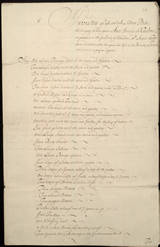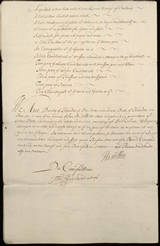 Now held at Lennoxlove, East Lothian
This inventory in the Hamilton Archives was drawn up by Anne, 3rd Duchess of Hamilton on 10 August 1705, when she was 73, indicating which items of silver plate she intended to leave to her eldest son, James, 4th Duke of Hamilton and which she would bequeath to her eldest daughter, Katherine, Duchess of Atholl.
James is listed as receiving various large silver dishes and tankards, a gilded basin and ewer in a case, a chocolate pot, a large number of plates, cutlery, a tea box and 'a guilded silver box which was Queen Mary's of Scotland.'
In the event, Duchess Anne lived on for another eleven years, finally dying in 1716 at the age of 84 while her son James predeceased her, killed in a duel in Hyde Park in 1712. The silver gilt casket, believed to have contained letters incriminating Mary, Queen of Scots in the murder of her second husband, Lord Darnley, was inherited by his son James, 5th Duke of Hamilton and has been in the Hamilton Collection ever since.