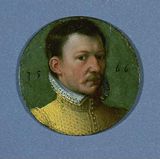 © Scottish National Portrait Gallery
The Scottish National Portrait Gallery
This miniature of James, 4th Earl of Bothwell was painted in 1566, on copper, by an unknown artist. It is in the collection of the Scottish National Portrait Gallery.
Bothwell, dark-haired and with a long, drooping moustache, wears a yellow doublet with a high neck and a row of small buttons down the front edge. The collar of his shirt has a ruffled edge.
James Hepburn, 4th Earl of Bothwell was one of the leading Scottish noblemen. Having spent time in France, he quickly found favour with Mary, Queen of Scots and during her marriage to Henry, Lord Darnley, there were rumours that Bothwell and she had become lovers. This seemed to be borne out when she married him within months of Darnley's assassination in 1567. Letters said to prove that he and Mary, Queen of Scots had plotted the murder were alleged to have been found in the Lennoxlove casket.