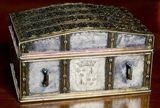 © Lennoxlove House Ltd
Formerly in Hamilton Palace, South Lanarkshire, now in Lennoxlove, East Lothian
A small piece of paper was placed in the casket in the 17th century describing its history. Some time after 1632, it had been bought by the Marchioness of Douglas, mother of the 3rd Duke of Hamilton, 'from a papist'. The man told her that it had belonged to Mary, Queen of Scots.
He said that it had been used it to carry letters between Mary and her alleged lover, James, 4th Earl of Bothwell. The queen's coat of arms was engraved on the front, but the marchioness had it replaced with her own. After her death in 1674, her executors sold the casket to a goldsmith.
Duchess Anne had heard the story of the casket from her mother-in-law and she decided to buy it back. At her husband's suggestion, she had the Douglas coat of arms erased and her own were put on instead.