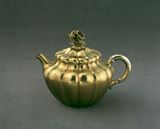 © National Museums of Scotland
Formerly in Hamilton Palace, South Lanarkshire, now in the National Museums of Scotland
William Beckford, the 10th Duke of Hamilton's father-in-law, had a keen interest in earlier artistic styles and commissioned work in the Gothic and German 16th-century styles. He also owned important items from Japan, China and India and ordered silver from London goldsmiths which was either based on or influenced by Asian models.
This silver-gilt teapot and the three other pieces in the same tea set are based on Yixing stoneware wine pots, and are even carefully matted and burnished to imitate the surfaces of the originals. The teapot, along with a very similar covered sugar bowl and a milk jug, are hallmarked for 1817-18 and bear the maker's mark of John Page, who had premises in Horseshoe Court, Ludgate Hill in London, close to the royal goldsmiths Rundell, Bridge & Rundell. The fourth item -a slop bowl -is struck with London hallmarks for 1818-19 and the maker's mark 'I B' with a pellet or dot between the letters, possibly for John Baddeley or James Barratt.
The tea set is of particular interest because of its small size. It was clearly intended for Beckford's own personal, solitary use and is a poignant reminder that he was a recluse who shut himself up in his home at Fonthill Abbey in Wiltshire, to enjoy his treasure house and concentrate on making more wonderful acquisitions. Along with most of Beckford's remaining collection, the tea set was bequeathed to his daughter, the Duchess of Hamilton. It was purchased by the National Museums of Scotland in 1980, with support from the National Art Collections Fund.