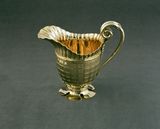 © National Museums of Scotland
Formerly in Hamilton Palace, South Lanarkshire, now in the National Museums of Scotland
William Beckford became heavily indebted building Fonthill Abbey in Wiltshire, and was forced to arrange an auction when his son-in-law refused to come to his rescue in 1822. Fortunately, public interest became so intense that Beckford was able to sell both the Abbey and many of its contents to the gunpowder millionaire John Farquhar for £300,000 in October 1822, cancel the auction, and move to Bath to start building and collecting once more.
This cream jug and a matching bowl are hallmarked 1819-20 and come from the same tea set as the teapot by Peter Podio. They reflect the decline in Beckford's income from Jamaica and indicate that he was starting to economise, albeit insufficiently, in the late 1810s.
Rather than commission five brand new pieces, Beckford arranged for two earlier items -a tea caddy by Michael Plummer of 1796-7 and the teapot by Podio of 1802-3 - in the simple Neo-Classical style to be recycled and rejuvenated. They were combined with a teapot stand by William Elliot of 1817-18 and a bowl and jug, in the Empire style, were commissioned from the royal goldsmiths Rundell, Bridge & Rundell. All five pieces were 'chased' and engraved with heraldic decoration alluding to Beckford's links with the Earls of Abercorn, Dukes of Hamilton, and the 1st Lord Latimer. The resulting composite tea set was inherited by Beckford's daughter, the Duchess of Hamilton, and was bought by the National Museums of Scotland in 1977, with aid from the National Art Collections Fund.