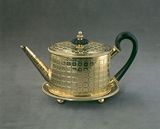 © National Museums of Scotland
Formerly in Hamilton Palace, South Lanarkshire, now in the National Museums of Scotland
William Beckford, the 10th Duke of Hamilton's father-in-law, inherited an immense sugar fortune from his father, Alderman William Beckford, a Whig political hero, and desperately wanted to be raised to the peerage. This was denied him, partly because of the scandal resulting from his affair with William 'Kitty' Courtenay, the son of Viscount Courtenay, in the 1780s, and partly because Beckford made no significant contribution to British politics, government, defence or overseas expansion.
The heraldic devices decorating this teapot and the four other pieces in the same tea set reflect Beckford's growing obsession with genealogy and heraldry. The Hamilton cinquefoils and Latimer crosses record his descent (through his mother) from the Earls of Abercorn and Dukes of Hamilton, and from William, 1st Lord Latimer.
Such decoration -using small heraldic devices or badges to completely cover the visible surface of an item -is extremely unusual. It is aesthetically attractive, but also demonstrated and promoted Beckford's lineage and status. Beckford's emphasis on coats of arms (his own had no fewer than 36 'quarterings') and heraldic decoration undoubtedly influenced the 10th Duke of Hamilton when he added the new north block to Hamilton Palace and decorated the interiors of the palace.