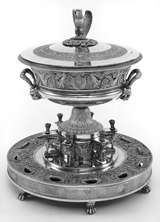 © National Museums of Scotland
Formerly in Hamilton Palace, South Lanarkshire, now in the National Museums of Scotland
The 10th Duke of Hamilton was able to buy the tea service of the Emperor Napoleon from the French state in 1830 because it was so covered with Napoleonic references that it could not be used by King Charles X. Napoleon's coat of arms had been erased from the sugar tongs and replaced with the Bourbon arms, but it had been accepted that the other pieces could not be altered.
The sugar bowl illustrates the problem. The finial representing the eagle of the chief god Zeus clutching a thunderbolt (a very Napoleonic subject) could have been removed, but it would have been almost impossible to cut away the crowned 'N's (for Napoleon), Napoleon's coat of arms and the crowned imperial eagles on the base.
Like many other pieces, the sugar bowl was designed by Napoleon's architect and designer Charles Percier (1764-1838) and a related drawing by Percier survives in the Musée des Arts Decoratifs, Paris. Although it is referred to as a sugar bowl or basin in the original invoice and later inventories, this particular shape, with spoons fitting into the base, was also used for preserves and jams. The bowl forms part of the second half of the service and was acquired by the National Museums of Scotland in 1976, with aid from the National Art Collections Fund.