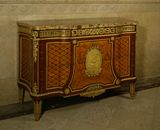 © The Frick Collection, New York
Formerly at Hamilton Palace, South Lanarkshire, now in The Frick Collection, New York, USA
Alexander, 10th Duke of Hamilton, acquired the marquetry secretaire and commode that Jean-Henri Riesener had made for Queen Marie-Antoinette in the 1780s, and remodelled for her in 1790-1. The duke knew or believed that they had been owned by Marie-Antoinette and he either gave them to his wife or installed them in her apartment as suitably grand pieces for the consort of the premier peer of Scotland.
Most of Alexander's acquisitions were moved around the palace as building work and decoration progressed, but the secretaire and commode stayed in the Duchess's Sitting Room. They are recorded there in the 1830s inventory as: 'A Very handsome Chest of Drawers, French work Gilt Bronze ornaments, and top of Marble which belonged to Maria Antonette Queen of France (£)200; A very Rich Cabinet to match the above Chest of Drawers (£)200'. Both pieces are more clearly described in the Duchess's Sitting Room in the inventories compiled in the early 1850s and in 1876, where they are joined and complemented by the writing desk now at Waddesdon Manor.
The secretaire and commode were bought by two different dealers at the 1882 Hamilton Palace sale, but were reunited by Sir Joseph Duveen, who sold them to the famous American financier J Pierpont Morgan in 1899. They were purchased by Henry Clay Frick in 1915 and are among the first things one sees when walking round the Frick Collection in New York.