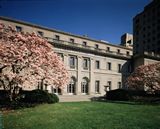 © The Frick Collection, New York
The Frick Collection in New York houses a very important secretaire and commode by Jean-Henri Riesener and other items from the Hamilton Palace Collection.
Henry Clay Frick acquired the prestigious location on Fifth Avenue, between 70th and 71st Streets, opposite Central Park, for $2.25 million in 1906. However, he had to delay construction of his new house and art gallery until the Lenox Library, which occupied the site, was able to transfer its books to the newly completed New York Public Library in 1911. Frick employed Carrère and Hastings, the architects of the vast new library, to design the building, and engaged Sir Charles Allom (the decorator of Buckingham Palace) to assist with the interiors.
Frick lived at No 1 East 70th Street until his death. He left 'The Frick Collection' for the benefit of the public, in the care of his daughter Helen C Frick and other trustees, and it opened its doors to visitors in 1935.