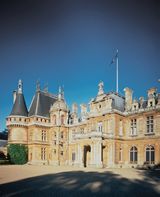 © Waddesdon Manor, The Rothschild Collection (The National Trust)
Waddesdon Manor contains many important items, besides the superb pieces of furniture by Jean-Henri Riesener which were formerly in Hamilton Palace.
In the Morning Room are the portraits of Alexander, 10th Duke of Hamilton, and his younger brother Lord Archibald Hamilton, painted by Thomas Gainsborough in 1786 for the 9th Duke of Hamilton and subsequently given to his daughter, the Duchess of Somerset. They reached Baron Ferdinand, via Christie's sale of part of the Somerset collection and Agnew's, in 1891. The death of Baron Edmond de Rothschild in 1934 was followed by the arrival at Waddesdon a few years later of the outstanding commode or chest of drawers attributed to Charles Cressent, of about 1730 (now in the Grey Drawing Room). This is decorated with imaginative top-quality ormolu or gilt bronze mounts representing four children catching birds on branches smeared with glue. It was acquired by the 10th Duke of Hamilton in Paris in 1827 and was included in the 1882 Hamilton Palace sale as lot 1806. Competition was stiff and the dealer Samuel Wertheimer was forced to pay £6,247.10s to secure the piece for Baron Edmond -even more than the £6,000 for the Riesener desk made for Queen Marie-Antoinette.
Recently, a pair of large porphyry vases with handles in the shape of snakes has been placed on display in the East Gallery. They were also bought by the 10th Duke and included in the 1882 Hamilton Palace sale, and reflect the 10th Duke's taste for porphyry, black and coloured marbles, pietre dure, and carved hardstones.