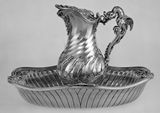 © Fundação Calouste Gulbenkian
Formerly in Hamilton Palace, South Lanarkshire, now in Fundação Calouste Gulbenkian, Lisbon, Portugal
The Hamilton collection included very important examples of French silver, notably the silver-gilt casket associated with Mary, Queen of Scots and the two great Napoleonic silver-gilt services: the travelling service of the Princess Pauline Borghese and the tea service commissioned in connection with the Emperor's marriage to the Archduchess Marie-Louise of Austria in 1810.
Here are two of the less well-known but nevertheless significant items: a ewer and basin, with spiral fluting and an amusing dragon-shaped handle, which are early examples of the rococo style. They are by the Parisian goldsmith Louis Regnard, who became a master in 1733 and died in 1779. Both are struck with Regnard's maker's mark, with a punning representation of a fox below the initials L R, and guild and tax marks for 1738-9.
The ewer and basin would have been used for washing hands, either with normal water or water scented with rose petals or something equally pleasant. In 1862, the 11th Duke of Hamilton lent the set to a major exhibition at the South Kensington Museum, but they were excluded from the famous sale 20 years later. Christie's auctioned them at one of the 1919 Hamilton Palace sales (on 4 November 1919, as lot 89) and they passed to Calouste Gulbenkian and the Gulbenkian Museum in Lisbon.