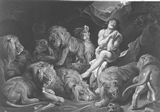 © The British Museum
This crude engraving of Rubens' Daniel in the Lions' Den (in the British Museum) is by the Edinburgh engraver Francis Lamb, who lived between about 1775 and 1850.
The inscription reveals that the work was undertaken during the lifetime of Archibald, 9th Duke of Hamilton, who inherited the titles in 1799 and died in 1819. However, it is actually dedicated to his son, Alexander, Marquess of Douglas and Clydesdale (later 10th Duke of Hamilton), who gained control of the Scottish estates shortly after beginning his parliamentary career in 1802. Francis Lamb was evidently very proud of this print. He begins his account of his Christian conversion and experience, published in 1848: 'I, Francis Lamb, author of the Engravings 'Daniel in the Den of Lions' (etc).
Daniel in the Lions' Den

sold for £5,145 at the 1882 Hamilton Palace sale, but was bought back by the 12th Duke of Hamilton three years later. It realised £2,520 at the 1919 Hamilton Palace sale, and was purchased by the National Gallery of Art, Washington, in 1965 for $440,000.