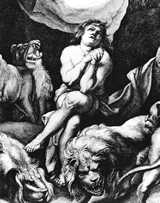 Formerly in Hamilton Palace, South Lanarkshire, now in The National Gallery of Art, Washington, USA
Rubens was a highly educated artist, with a good knowledge of Latin, Italian, French, German and Spanish. He studied Roman antiquities and works by Renaissance and contemporary painters, engravers and sculptors, and constantly referred to the past for subjects, compositions and ideas.
Daniel in the Lions' Den is a good example of how Rubens created a painting. Daniel's pose seems to be based on an engraving of the Penitent St Jerome by Cornelis Cort of 1573, after Girolamo Muziano, while the lions appear to be a combination of Rubens' studies of real animals and Italian bronzes of lions.