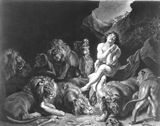 © The British Museum
Rubens' painting of Daniel in the Lions' Den was copied by a number of engravers. During his tour of Scotland in 1767, William Hayley called on the Glasgow printers, the Foulis brothers, and bought 'a respectable print, very nicely impressed on satin' of the famous work in the Long Gallery at Hamilton Palace.
This illustration shows a mezzotint by William Ward (1766-1826), of 1789, now in the British Museum. A mezzotint is made by roughening the copper plate so that it will print a dense black, and then gradually scraping the plate to create lighter and lighter effects. The result is an impression with velvety richness and a wide variety of tones.