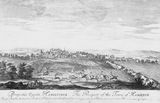 © RCAHMS
Hamilton engraving from John Slezer, Theatrum Scotiae (c.1693)
The medieval settlement of Cadzow, the original Hamilton, occupied a site on the river plain close to the confluence of the Cadzow Burn and the River Clyde, and was associated with a castle which is now a tree-shrouded motte or earthwork mound to the north of the mausoleum. By the later Middle Ages, both town and castle shifted to the western edge of the river plain, the Hamilton family living in a stone-built residence known as The Orchard on a site which developed into Hamilton Palace, and the town, which had become known as Hamilton, having correspondingly moved from the 'Nethertoun' to the 'Hietoun' on the western slopes nearby.
This distant prospect of Hamilton from the hill slopes and hunting grounds to the south-west is the only known topographical view which shows Hamilton Palace in its un-reconstructed, late 17th-century form and in its close physical relationship to the 'Hietoun' of Hamilton. The roofs of the main ranges and turrets of the palace rise above the huddle of town buildings (centre left), and immediately to its east (right) is the medieval collegiate church, then serving as the parish church, with its central tower and short aisles or transepts. The animated stag hunting scene in the foreground provides pictorial emphasis of the importance and use of Cadzow Forest for this purpose over the centuries.
John Abraham Slezer (c1650-1717) was a military engineer of German origin who, from his permanent establishment in Scotland from 1671, produced a series of drawings, most of which were collected together, engraved and published in a book entitled Theatrum Scotiae (c.1693 and later editions). Where appropriate, the plates were dedicated to members of the local nobility, the view of Hamilton being inscribed in this edition of the plate to Elizabeth, 4th Duchess of Hamilton (d.1744).