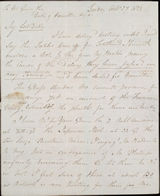 © Lennoxlove House Ltd
Alexander, 10th Duke of Hamilton, made extensive use of the London furniture-maker and supplier Robert Hume. After inheriting the titles in 1819, Alexander commissioned expensive furniture decorated with pietre dure or hardstones from Hume and employed him as his agent. Later, he relied heavily upon Hume to decorate Hamilton Palace and complete the furnishing and fitting out of the interiors.
Hume bought at least nineteen lots for the duke at the 1823 Fonthill sale. The pair of armoires by Boulle cost 485 guineas, plus £13.5s for restoration and cleaning. They were quickly installed in the Long Gallery, flanking the famous painting of Daniel in the Lions' Den by Rubens. Hume also purchased the so-called 'Laughing Boy' (now at Elton Hall) which was then regarded as a major work by Leonardo da Vinci. It is now entitled Boy with a Puzzle and downgraded to Luini. This 'bad buy' cost the staggering sum of 985 guineas or £1,034.5s. Hume's total bill came to £2,415.9s and included a commission charge of £115.