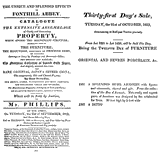 © National Museums of Scotland
The magnificent armoires or wardrobes by André-Charles Boulle, which were in the Long Gallery of Hamilton Palace, were acquired by William Beckford (the tenth Duke of Hamilton's father-in-law) around 1814.
Beckford left both armoires at Fonthill Abbey in Wiltshire when he was forced to sell his huge house and many of its contents to the eccentric millionaire John Farquhar in 1822, to stave off bankruptcy. Farquhar soon sought to make a profit on his speculative investment and the 10th Duke bought the armoires at the Fonthill auction organised by Phillips in September and October 1823.
The Fonthill catalogue clearly states that the armoires had been owned by the Duc d'Aumont (1709-82), who was a great connoisseur. However, they do not match the descriptions of the five lots of Boulle furniture in the sale of the Duc d'Aumont's collection in 1782, or entries in the Inventaire après deces du duc d'Aumont.