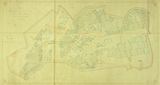 © Lennoxlove House Ltd
This plan relates to the lease granted by the 12th Duke of Hamilton to the Bent Colliery Company Limited in 1889, which provided that the coal under the Hamilton Low Parks, towards the southern end of which the palace and mausoleum were situated, should be as nearly as possible completely excavated, except for the coal under the palace and mausoleum themselves.
When a new lease was granted in 1915 permitting the extraction of coal from under the palace, The Hamilton Advertiser hastened to assure its readers that only the palace would be affected, not the mausoleum, and that the possibility of damage to the palace was 'very remote' -at least three or four years ahead.
In any event, the report continued, the palace had long ceased to be a family residence, being used for occasional visits or ceremonial occasions, whereas the working of the palace coalfield was of great economic importance, as it would mean a material increase to the industrial prosperity of the district.