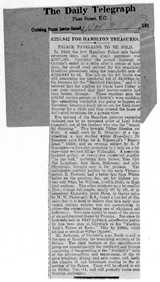 © Lennoxlove House Ltd
This report in The Daily Telegraph of 8 November 1919 followed on the last of the five days' sale in London, by auction conducted by Christies, of the most important items from the contents of Hamilton Palace, Lanarkshire, sold on the instructions of the testamentary Trustees of the late 12th Duke of Hamilton.
The Daily Telegraph report shows how fashions in artists and their subjects change. In 1919, portraits took pride of place, and the £54,600 paid by Duveen's for 'The Beckford Children' was a record for any painting sold at auction in the UK. Romney 'posthumously outdistanced all competitors'; although still admired he is now generally less highly regarded than, for instance, Reynolds and Gainsborough.
The prices paid for the portrait by Romney, and to a lesser degree by Reynolds and Raeburn, contrast strangely to our eyes with £2,520 for a magnificent Rubens and £472 for a Delacroix, however small. The painting of 'Cardinal York's Palace at Rome', attributed to Pannini and sold for £861, was recently acquired by the Scottish National Portrait Gallery.