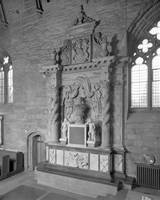 © RCAHMS
This is the monument to William, 3rd Duke of Hamilton, which was carved from Dutch marble after his death in 1694 and now stands in St Bride's Parish Church, Bothwell, having been moved there from Hamilton Parish Church which was demolished in the 18th century.
The monument, designed by James Smith, is a tall structure with imposing columns, two mourning boys with extinguished torches flanking an inscribed plinth with an urn surmounted by a cherub beneath draperies. At the top is the duke's coat of arms. The monument was erected in almost exact accordance with James Smith's design, apart from a few details such as the skulls placed above instead of in front of the cross bones on the lower panels. The cherub above the urn lacks his trumpet, but it may have been lost at a later date.
The son of William Douglas, 1st Marquis of Douglas, the 3rd Duke of Hamilton fought in the royalist army in the mid-1650s and, in 1656 married Anne, 3rd Duchess of Hamilton in her own right. At her request, Charles II made him Duke of Hamilton. In parliament, the duke led the opposition to John, 1st Duke of Lauderdale, later serving twice as Lord High Commissioner. President of the Scottish Privy Council in the 1680s, he occupied other important offices including that of Lord High Admiral and was an extraordinary Lord of Session.