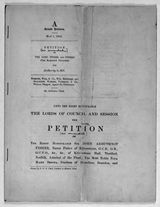 © Lennoxlove House Ltd
This is a Petition presented in 1919 to the Court of Session in Edinburgh by the Trustees acting under the Will of the late 12th Duke of Hamilton, who died in 1895, seeking authority to sell the fabric and contents of Hamilton Palace, Lanarkshire, part of the estate held by them in trust.
The Petition runs in the name of the Hamilton Trustees in the sense of the Hamilton Estates Act 1918. After the death of the 12th Duke in 1895 his executors had the task of administering his entire estates in England, mainland Scotland and the Isle of Arran, including Brodick Castle.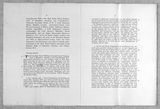 © Lennoxlove House Ltd
This task proved to be one of such complexity that the Trustees arranged, through the passing of a private Act of Parliament, to deal with the administration of the estates on the Scottish mainland, held in trust for the 13th Duke and his successors, separately from that of the English and Arran estates, which passed to the 12th Duke's daughter because, unlike the other titles and estates, they were not entailed on the male line.