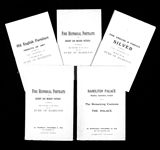 © Lennoxlove House Ltd
These catalogues list the contents of Hamilton Palace, sold at two auctions conducted by Christie, Manson & Wood, the first, of the principal items of furniture, paintings, objets d'art, silver, porcelain, etc., in London from 4 to 8 November 1919.
The London sale realised over £232,000, a large part of which represented the price of paintings, including 'The Misses Beckford when Children' by Romney, then the portraitist 'darling of Bond Street', sold to Duveen's for a sensational £54,600, and Rubens' masterly Daniel in the Lions' Den for a mere £2,520.
The second sale, held in the palace itself from 12 to 14 November, saw the disposal of the remaining contents of the palace and its fittings and fixtures, including the splendid late 17th-century oak panelling and the magnificent black marble staircase, installed by the 10th Duke of Hamilton, consisting of a double flight of stairs and a gallery.